The story of the Srebrenica massacre started before 1995. In the early 1990s Yugoslavia was no longer a nation. Each republic that announced their separation ended up in a war. Watching the war unfold on TV in Slovenia, and thereafter Croatia I couldn't even imagine that the war would spread to Bosnia and Herzegovina.
I lived with my family—my father, mother, younger sister and brother—on the border with Serbia in the community of Skelani, Srebrenica municipality. Springtime of '92 was different. Nothing was like it was before. My elementary school yard was filled with "Yugoslavian Army" soldiers. Like many Muslim students, I felt scared to go to school. No Serb children were attending school anymore. I didn't even see my Serb friends on the streets and in the community anymore. By the end of April, the school closed. The school principal told us (the students) in the announcements that the school is closing temporarily so that the army could do their training in our school.
The air felt tight. The changes were happening so fast each day. It didn't feel safe anymore. A group of men, my Muslim neighbors, were doing security patrols taking turn each night so that women and children would feel safe sleeping in their houses. My aunt, whose husband was killed in 1991 by the Serbs (this happened in Kravica, municipality of Bratunac, where they made a barricade and killed my uncle and one more Muslim man before the war even started in Bosnia), moved in with her 5 year old to our house "temporarily" for their safety until the situation settled. Everyone was panicking.
My father left us in the morning on May 7th 1992 to go to work in Belgrade-Serbia, the capital city of Yugoslavia. We hugged and it was so hard to separate saying goodbye, not knowing what would happen and if everything would get back to normal. That evening we heard that the bridge in between our community of Skelani and Bajina Basta town in Serbia was closed. A message came to us that everyone trying to cross the bridge was being killed. We didn't have working phone lines and never heard from my father if he made it to Belgrade.
Leaving Home as Tensions Rise
My mom's sobbing woke me up in the morning of May 8th 1992. She said to me that something unusual was happening. The sky was getting dark from the smoke in the near distance. A line of people were passing by our house telling us to go, and leave our house if we don't want to get killed. They said that Serbs burned down a village called Resagici and many villagers have been slaughtered, burned or shot. One woman was yelling that the Chetniks (Serb extremist) are killing everyone they see. She said that she recognized her Serb neighbours from Kalimanici with the "Yugoslavian Army" and saw them killing their Muslim neighbours. She also said that she thinks it is not a Yugoslavian People's Army, it's just Serbs from Serbia and our Serb neighbours.
My mom grabbed the flower arrangement from the table and was walking from room to room in the house looking lost. She was talking to herself, saying that she is not going to leave her house. Our family never did any harm to anyone, especially to Serbs. She didn't know where her husband, my dad, was. And whether he made it alive to Belgrade, or if he was slaughtered on the bridge like many other Bosnian Muslims crossing the bridge in Skelani that day. I realized that she was in a state of shock. Quickly I helped my two younger siblings pack a change of clothes for them in their school backpacks. We also gathered all of the important documents, packed a bag of dry food and asked everyone to take their backpack and a blanket. It was time to leave our nest so that we wouldn't be killed.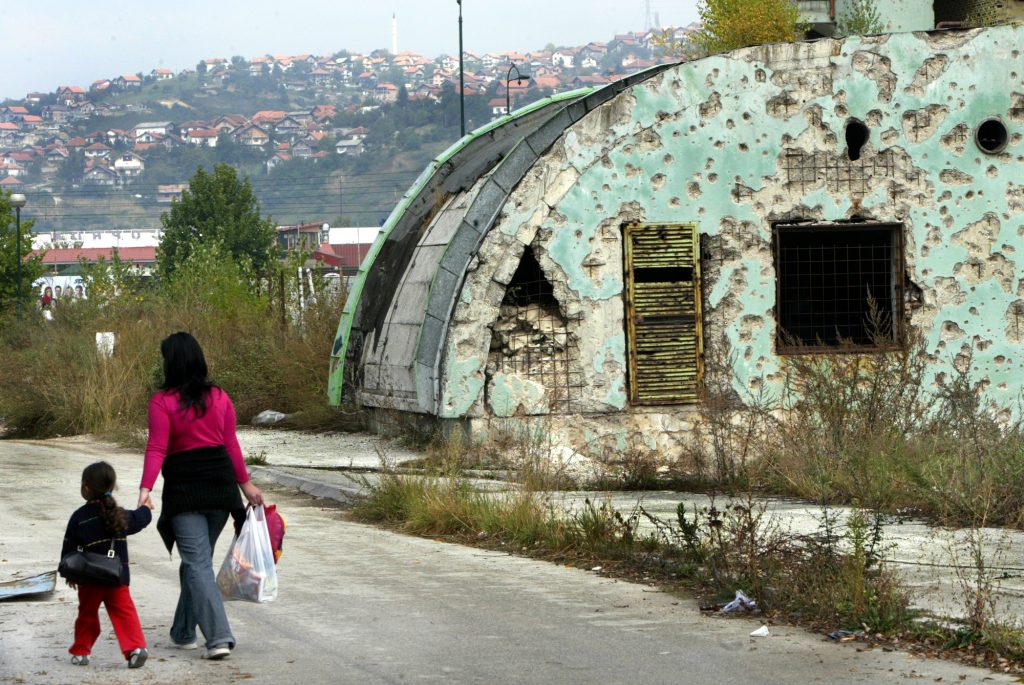 After we left our house, we followed the line of people up the hills towards Srebrenica. The Serbs were shooting at us. Heavy flames and smoke from houses being burned down covered the sky. Walking for days in the forest trying to find safety, we soon ran out of food. It was springtime so we found some mushrooms for survival.
A Close Call in the Countryside
After we fled the house, we lived in my uncle's summer house that was under construction, located on the hills over the lake Perucacko Jezero, in between our community and Srebrenica. We thought we would be safe there, that the Serbs (around the Tara mountain and dam) would not shoot, thinking that the house was under construction and nobody lived in it. Unfortunately we experienced a shower of tank grenades every day.
One day we ran out of food completely, so my uncle got us some calf meat. A group of us sat around the TV taking turns pedaling the upside down bicycle to produce electricity, so that we could watch a show called Uz Nedeljni Rucak while my aunt was preparing meat for us to eat. All of the sudden, the house shook. In total 73 tank grenades fired from Serbia (near Tara mountain) fell around the house. Thankfully we all survived, hiding under foam mattresses. Later that day we discovered that the white bakery truck had been left behind on the road over the house. The truck driver had run from it for his safety. That white truck was the only truck supporting a community during the war, so they were shooting to destroy it.
One unexpectedly quiet day, my sister and I sat on a sunny spot by the house to dry our hair after washing it with the mixed ashes and water (we had no shampoo as there was no shopping in the war in Srebrenica). Suddenly a grenade in the air made a sound. We watched it coming to us. We silently looked at each other with tears running down our cheeks, as we waited for the end of our lives. The grenade fell a few meters from us, and made a sound like steam from a pressure cooker being released. But it never exploded. It wasn't our time for the Akhirah (afterlife).
A Dangerous Search for Food
We ran out of food again. One dark night I went with my mom behind enemy lines to our home searching for some food. The white, 3 storey house was standing tall, but the stucco walls and the roof were destroyed from gunfire and grenades. Only a little something was left in our destroyed house. I was surprised to see however, that the house was not burned down. All the furniture was taken. I couldn't find any of my belongings, my diary or any pictures. Mom found some food left behind in a pantry under the stairs for us to take back to uncle's summer house. That night we made it back safely. Yet, many people were killed searching for food behind enemy lines.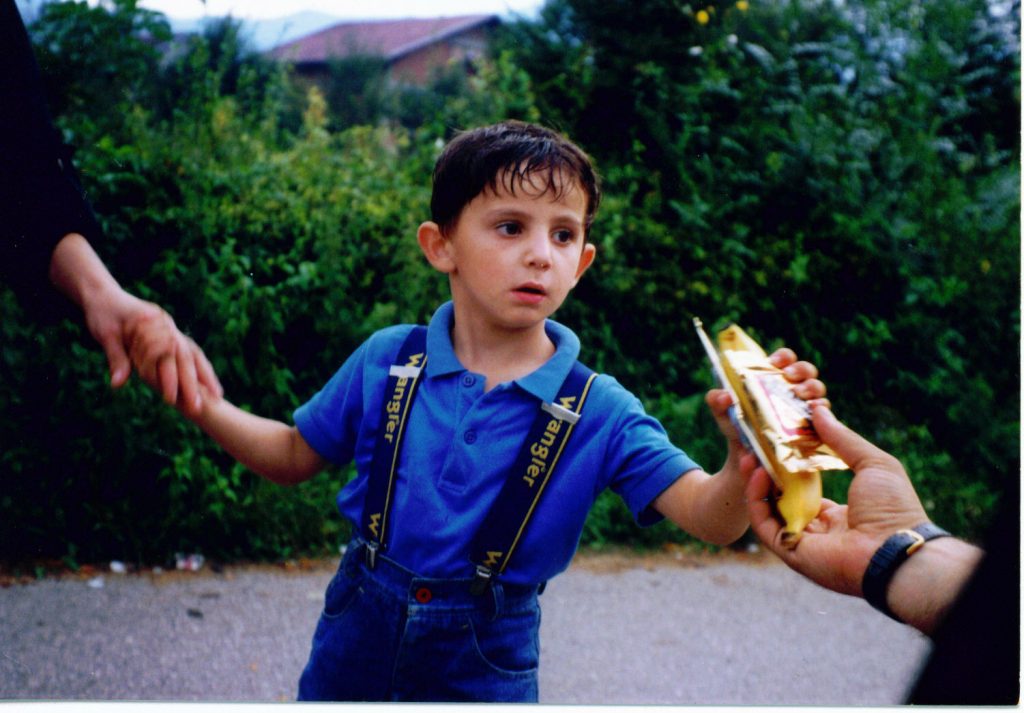 In March of 1993, Serbs occupied the area and we had to leave my uncle's house and flee over the hills to Srebrenica. We travelled, heavily loaded with our belongings, all night through the snow over the hills. The grenades were falling everywhere around us. My 5 year old cousin was walking asleep. It was sad and funny at the same time, watching him walking from one side of the road to the other back and forth. Many people didn't make it to Srebrenica.
Seeking Refuge in Srebrenica
Upon arrival, the streets of Srebrenica were crowded, filled with thousands of refugees. There was no place to live. People were warming up by campfires on the streets. We followed my uncle looking for my dad's brother and his family. They were in one room in an apartment building. There was no room on the floor for all of us to even lie down, so we stayed in an office with no glass on the windows or doors in the municipal building of Srebrenica. We slept on a concrete floor using file folders from the office instead of pillows.
I felt like I have lost feelings, being hungry and cold in a place of horror. The grenades, shooting and killing was constant. One night my feet froze in my well-worn summer shoes while waiting with my uncle and his family for the airplane to drop food down for us. Sadly that night, the airplane just flew by. No food was dropped on any of the hills around Srebrenica. The only good thing was I got to spend some time with my cousins. I didn't get to see them often because of the unsafe situation in the town. We grew up together, as neighbours where we spent a lot of time together before. But, the war separated us.
One morning in late March, my uncle came to say that the UN convoy had arrived in the town. We would be getting some food for Eid. We hadn't eaten real food in a long time. My uncle came back with some flour and sugar. My mom made us a warm meal. With the UN convoy came their commander, Philippe Morillon. Women and children stopped him from leaving Srebrenica and asked him to use his position of power to save our lives. After a long time of negotiation, he declared Srebrenica as a UN protected zone. UN forces demilitarized Srebrenica Muslims in order to protect them. But, the protection only stood until he left.
A Harrowing Truck Ride to Safety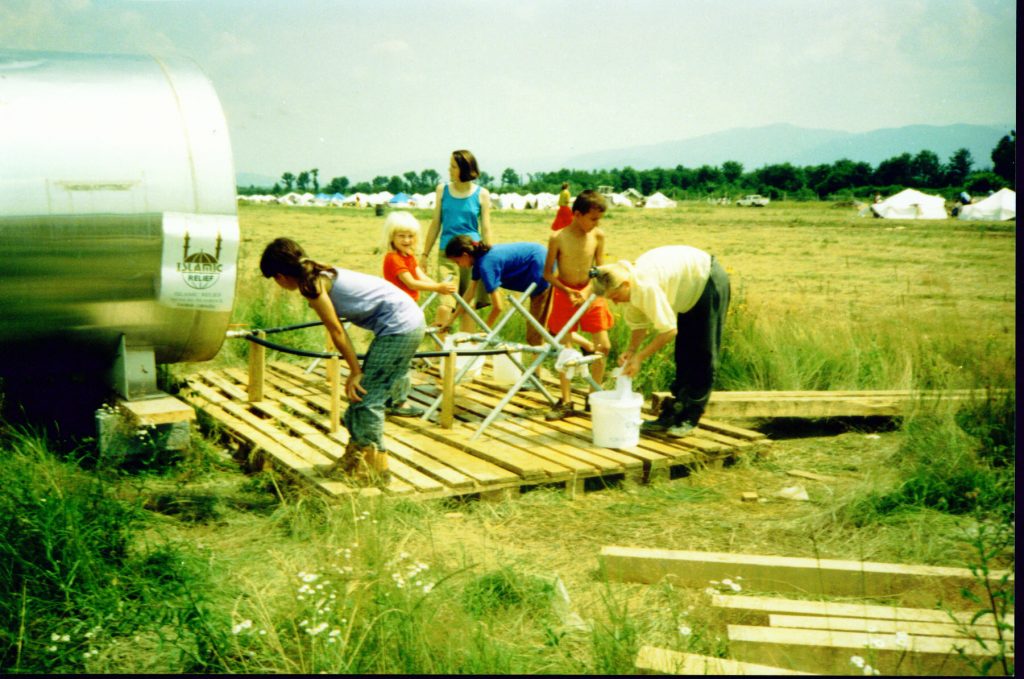 One night, not long after, when the convoy of trucks came with the food to Srebrenica, my uncle helped my mom, sister, brother and me to get on the back of an open UN truck to take us to the city of Tuzla (a safe territory). It was so crowded on that truck, that with the motion, if someone ended up on the floor of the truck they would not survive. My brother almost lost his life. My mom and I pulled him up so hard and saved him. An elderly man and a baby were squished to death on that truck. In a place called Ceparide, Serbs stopped the convoy. They were taking and killing people and raping women and girls. I was physically abused and was bleeding all the way to Tuzla.
My family and I lived for a year in a private home in Srebrenik near Tuzla. People of that region helped us until a refugee camp was built in 1994, in a community called Spionica. The UN didn't build refugee camps in Srebrenica for us. Nobody had access to Srebrenica even though it was a UN protected zone. We would communicate with our relatives in Srebrenica with open Red Cross letters.
A Long-Awaited Reunion from Belgrade
In Srebrenik, my mom contacted the Red Cross looking for my father in Belgrade, Serbia. One day we got a message that my dad was alive and wanted to communicate to us through a radio station. We couldn't believe our ears when we heard his voice. We were not allowed to speak. The radio reporter repeated our words into the microphone for my dad to hear. He was saying that he doesn't trust it was his family he was communicating with. He thought he was fooled because he couldn't hear us. So the deal was for him to ask my mom something that only the two of them knew. We were reunited after the war in 1995.
When I saw my dad for the first time after we said goodbye at our house back in 1992, he looked completely different, older. His hair was completely gray. There is a saying in our culture, "got gray hair overnight". My dad told us that he could relate to that expression. In Belgrade he had contacted Serb neighbours to find out about us. He was told that my mother tied cloth around her children's eyes and all of us jumped into the Drina river and drowned. Thinking that he may have lost us, my dad's hair turned gray overnight.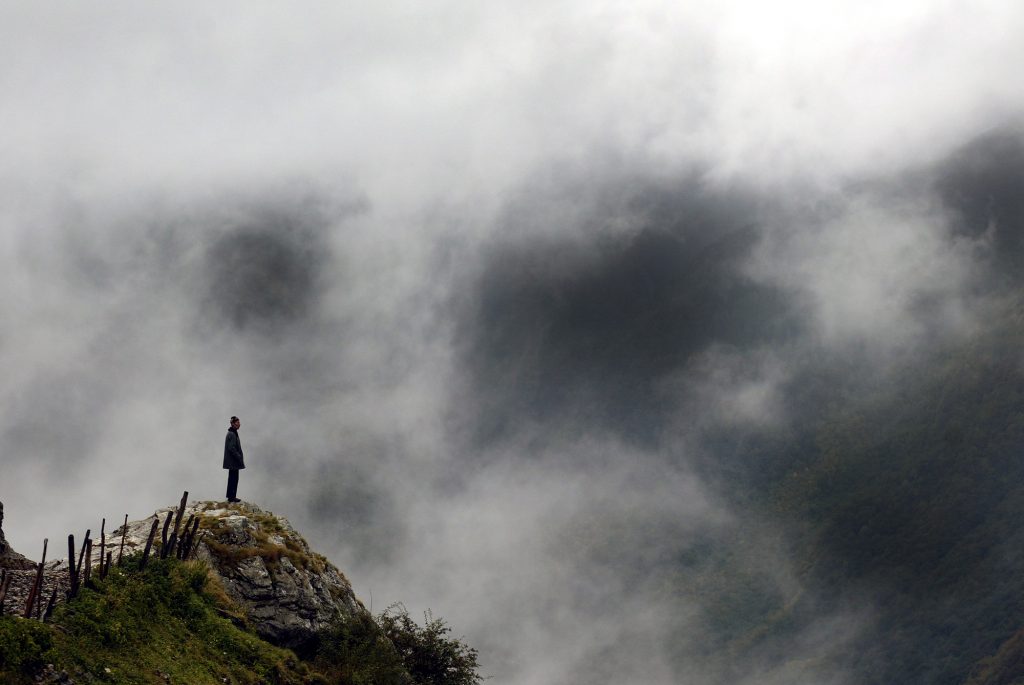 July 1995 – The Srebrenica Massacre
The black day. Srebrenica was bleeding. We listened to the news not believing our ears and eyes when we were told what was happening. The remaining relatives had now come to the refugee camp where we lived. All the men were considered missing. For days and days we were crying and trying to get some information about them. My cousin, she has not been doing well ever since. I never knew if she was raped or abused but I was always concerned. She lost her fiancé of 5 years, two brothers (one 16 years only), and grandfather. They were executed and their body remains are scattered in more than one mass grave.
My uncle was missing and his son, my cousin with whom I grew up. We were only two months apart. I was named after him and we grew up like twins. He was 17 when he was murdered. My other two cousins were missing. All of my dead relatives were executed and their body remains (bones) put in more than one mass grave. All are buried now except for one cousin, whose remains have not yet been found.
My aunt, her husband and son were killed in a town called Foca. We first heard that they were burnt in their house. After that, their neighbor told my dad that they were killed and took my dad to visit their graves in Foca where they lived before the war.
Rebuilding Our Lives
We lived in a refugee camp sharing one room of 4 bunk beds with one more family. Next to us lived another family and downstairs on the first floor, two more families were sharing a room. All in total, 21 people. We shared one kitchen and only one bathroom. After I graduated high school, I applied to university but was not accepted even after a few tries. It was hard to get a spot at the university. The corruption in our country was noticeable. I worked for two years in a convenient store to support my family. It was hard. My shifts were 12 hours a day but I had to work because we had no other income in our family.
We had to look for a solution for our lives. We couldn't go back to Srebrenica. The town was under Serbian control and the law didn't support our return. So, my family and I immigrated to Canada, where we still live. Shortly after, I married my fiancé and he moved to Canada as well, leaving his family behind in Bosnia.
A Trip Back To Bosnia
In the winter of 2002, my husband and I went for a visit to Bosnia. At that time we were told it was okay to visit Srebrenica. Driving over 100 kilometers, in now Serbian occupied territory was not comfortable, but I wanted to see my birthplace. My family house looked very sad that winter day. A Serbian family, our neighbours, moved into it. They invited us inside. I really wanted to go in and see how it looks like now and I wanted to go badly in my room, but at the same time I was afraid that they may kill us. My husband and I just looked at each other thinking we could be killed anywhere, given that we were in a Serb occupied territory. So we walked in. My heart froze. My house didn't look like my house anymore.
Every time we can afford to, we take our kids to visit Bosnia to show them around, get them to spend time with their relatives there and to teach them about history and the culture.
When the Ottoman Empire's rule was over, Serbs forced my ancestors to move from Serbia, over the river and into Bosnia. Now, they've forced us to move over an ocean, into another continent.
Last year while I was volunteering for Islamic Relief Canada, working on summer camp for Bosnian orphans, my two sons went to a Mars Mira (a peace march) to Srebrenica.
They are learning and living to NEVER FORGET SREBRENICA.
– Elvedina (Dina) Pitarevic Becic