First off, welcome to our blog! We just launched this week and hope you'll enjoy the journey with us as we forge ahead into 2020.
Our creative energy has been bubbling over with all the excitement for the new year and new decade. If you're thinking "you're a charity, why do you need creative energy?" Well, for all the ways that you could be part of this amazing work and make a difference in the world.
That's actually what this blog post is all about. Read on and don't miss out on our new year's gift for you at the end of this post.
Inspire Volunteer Abroad
Let's start with Inspire. Inspire is our Volunteer Abroad program that happens throughout the year. We're now in our third year after successful trips to Bosnia, Kenya, Lebanon, Malaysia, and South Africa, alhamdulillah.
When you apply to participate in Inspire, you get to travel to volunteer with our projects and contribute to communities around the world. It is an amazing opportunity for both youth and adults to gain a hands on learning of relief work, while raising awareness, fundraising and travelling.
Definitely check it out. Our volunteers have contributed to our projects in so many positive ways, and all attest to it being a life-changing experience. See for yourself below!
Challenges
And while we're on the topic of travel, did you know that you can also travel with us on our Challenges all around the world? Islamic Relief Challenges are opportunities to engage in physically demanding adventures all over the world, as well as raise funds for our projects.
From Canada to Peru, Spain, Turkey, Morocco and beyond, our participants have raised funds to build water systems in Sudan, provide urgent relief in Yemen, and help the people of Syria rebuild their lives. All while doing incredible things like climbing Machu Picchu, trekking across the Sahara Desert, biking through the Islamic history of Andalusia Spain, and cycling through Turkey.
In 2020, this could be you! Learn how the program works and see any opportunities that are available. There's more to come, so stay tuned!
What else is happening this year? And why is this blog post about hindsight?
There are actually so many meaningful things we want to recommend to you, but then this post would just go on forever. So to make things easy, we prepared a neat little kit with all the things in it.
Because, how were you feeling when December rolled around? Did you kind of shrug your shoulders and think "meh". We feel you. If only there was a way you could magically know now, what you'll know then. Indeed they say… hindsight is 20/20. And lately, everybody's been on about that 20/20 vision.
We're inviting you to choose Islamic Relief and spend your 2020 with us, with our Hindsight 2020 Kit made just for you.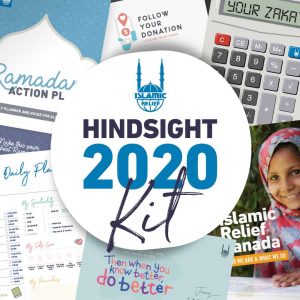 No more looking back with uncertainty or regret. Forget resolutions that last 2 weeks. We've gotchu. And even if somehow, you're one of those magical self-actualized beings and felt incredibly accomplished when December came, this kit is still for you.
Whether it's staying on track with your goals, challenging yourself, celebrating big moments, sharing your blessings or recharging spiritually, the kit is made for you.
Okay enough about the kit, get it already!!
From everyone here, happy new year! Looking forward to having you with us.