It's no secret that our world is rapidly changing as a result of COVID-19. While the ongoing pandemic has shaken our societies, it has also inspired global scientific innovation and collaboration. The COVID-19 vaccine has been the light at the end of the tunnel for many of us, especially as Canada endures its difficult third wave.
There is certainly a lot of information (and misinformation) circulating about vaccines right now. In this post, you'll find some resources for you to find out more about the COVID-19 vaccine.
You will learn where to find answers to Frequently Asked Questions specifically for Canadian Muslims regarding the vaccine, how access to the vaccine is impacting communities around the world and what Islamic Relief is doing to challenge that.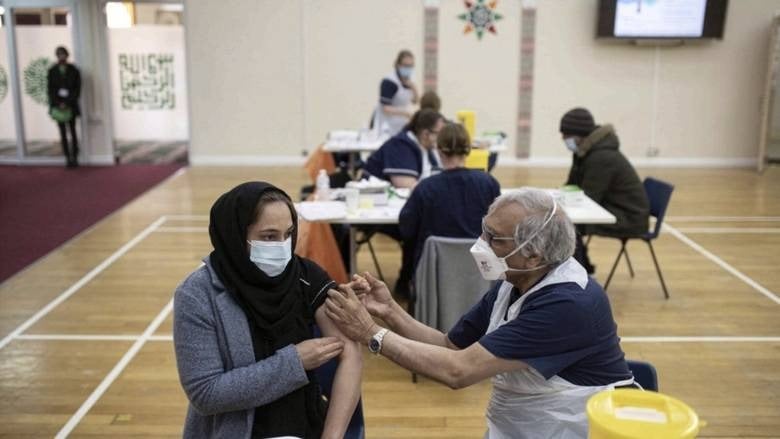 You can even learn a little bit about the Muslim contributions to vaccine development, including the COVID-19 vaccine, and the key role our communities have played in this global pandemic.
Information About the COVID-19 Vaccine for Canadian Muslims
Given our rapidly evolving circumstances and the overwhelming amount of information, it's natural to have lots of questions about the COVID-19 vaccines. With the rise of misinformation, it's important to refer to reliable resources when seeking out information on vaccinations.
The Canadian Covid Muslim Taskforce (CMCTF), is made up of a group of Canadian Muslim medical experts, religious leaders, and community organizations. They've been working hard to address any concerns the Canadian Muslim community might have about vaccines.
They've helped answer questions all the way from "can I get the vaccine while fasting?" to "who is eligible for the vaccine?" Below you can find some of the most common questions people ask:
Why is it Critical for as Many Canadian Muslims to get the COVID-19 Vaccine as Possible?
"Many Canadian Muslims identify as South Asian or Black, and such racialized community members are at higher risk of being exposed or getting sicker from COVID-19 as they are essential workers, have high-risk medical conditions, live in multi-generational homes or may live in dense and lower socioeconomic settings. Vaccines are most effective at removing a disease from communities when we vaccinate as many people as possible, to allow us to keep the most vulnerable members of our society safe."
– Canadian Muslim Taskforce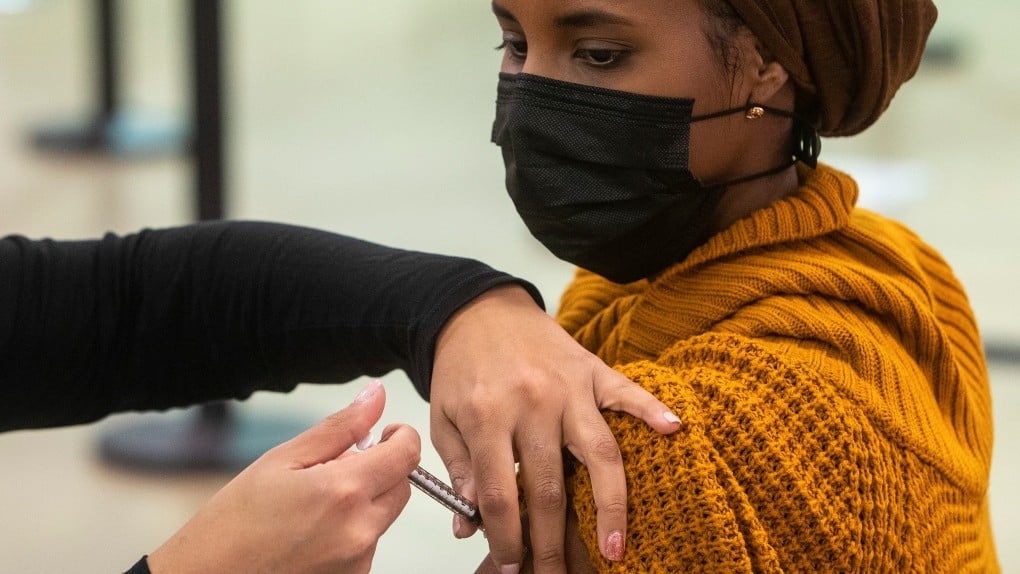 Do People Who Have Previously Had COVID-19 Need to Get the Vaccine?
"Yes. Canada's National Advisory Committee on Immunization (NACI) recommends that people who have previously had COVID-19 should still receive the full COVID-19 vaccination series. This is because although rare within the first 3 months following COVID-19 infection, there have been reports of people getting re-infected and developing COVID-19, possibly due to different variants."
– Canadian Muslim Taskforce
Are Non-Citizens and Non-Residents Eligible to Receive the COVID-19 vaccine?
"Yes. The COVID-19 vaccine is and will be available to all authorized age groups within Canada, regardless of immigration or residency status. As such, non-citizens, non-residents, migrant workers, refugees and international students should all be able to receive the vaccine when they meet the eligibility criteria in their region."
– Canadian Muslim Taskforce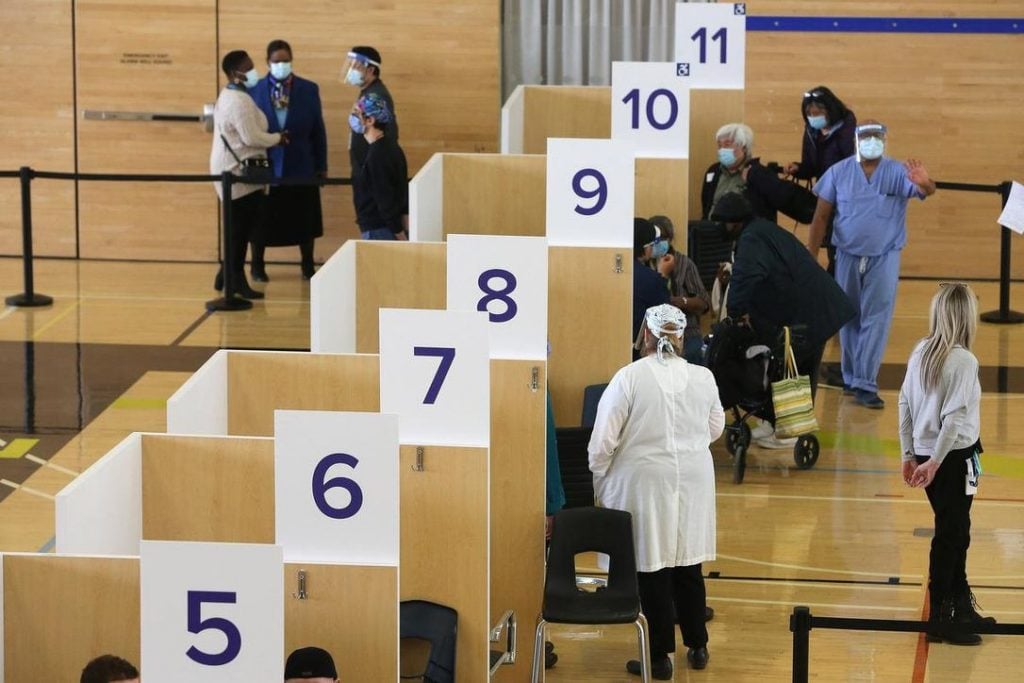 If I Feel Unwell After the COVID-19 Vaccine, Can I Break My Fast?
"As with any illness, if your symptoms are severe and you are fearful of worsening health, you may break the fast and not fast until you are better, take any medications as required, and make up any missed fasts later. If you are able to tolerate the symptoms until your fast has been completed, please drink ample fluids and take medications as required so that you feel better quickly InshaAllah."
– Canadian Muslim Taskforce
Will COVID-19 Vaccines be Mandatory for Hajj or Umrah?
"On January 6, 2021, the Ministry of Hajj and Umrah recommended Muslims planning to perform Umrah to receive the COVID-19 vaccines beforehand. In early March 2021, it was announced that complete COVID-19 vaccination (i.e. with both doses, as required) will be mandatory for Hajj this year. More information is expected in the coming months, as different vaccines are being rolled out across the world on different timeframes."
– Canadian Muslim Taskforce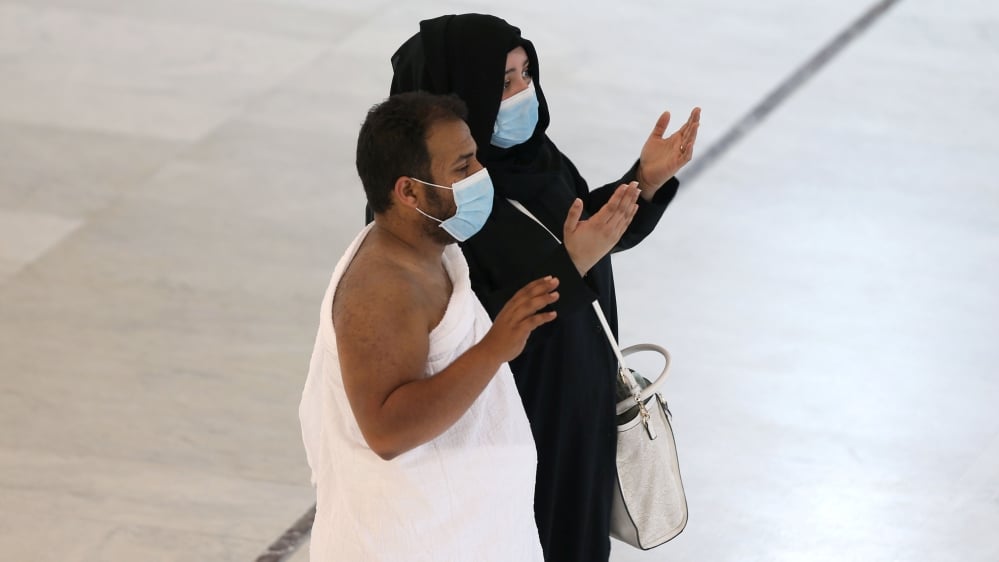 You can see the taskforce's complete list of vaccine FAQs. It's is an excellent resource for members of the Muslim and broader community who want to seek clarification regarding the vaccine. It also includes a breakdown of the available vaccines in Canada – check it out!
Islamic Relief Canada's Response to COVID-19 at Home
Since the start of the pandemic, Islamic Relief Canada has been hard at work to protect those in our communities who are most vulnerable, both here and abroad. We have been providing hygiene kits and financial assistance for low-income families who were hardest hit by COVID-19.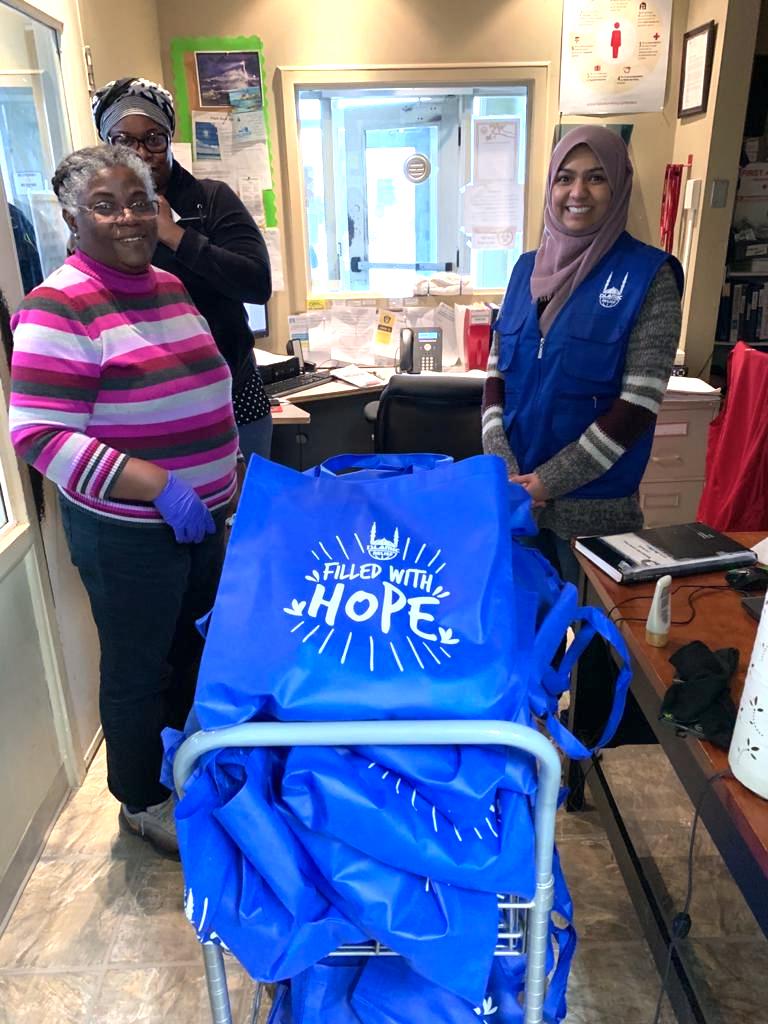 Beyond our community-level efforts, we have also been advocating for an equitable pandemic recovery process. On March 16 2021, we released our Unmasking COVID-19 research report, which contains 11 important recommendations to all levels of government:
The federal government must continue to provide financial relief.
Eligibility for financial relief must be extended to those who have not been attached to the labour market.
Raise the minimum wage to a living wage using the Canadian Living Wage Framework.
Remote skills training programs for those who have lost their employment, both temporarily and permanently.
Creation of a federal subsidized early learning and childcare program.
Legislation of 7 permanent paid sick days and an additional 14 paid sick days during the pandemic.
Prioritize vaccination for BIPOC communities, essential workers, the elderly, and those with underlying medical conditions.
The federal government should provide a rental relief assistance program, similar to CERS, to individuals unable to pay rent due to financial hardship.
Targeted support for BIPOC community, low-income people, women, single parents, and new immigrants.
The creation of a BIPOC financial relief fund, that supports economically marginalized BIPOC members.
Raise the percentage of the federal charitable donation tax credit rates.
You can read the full details of our findings below: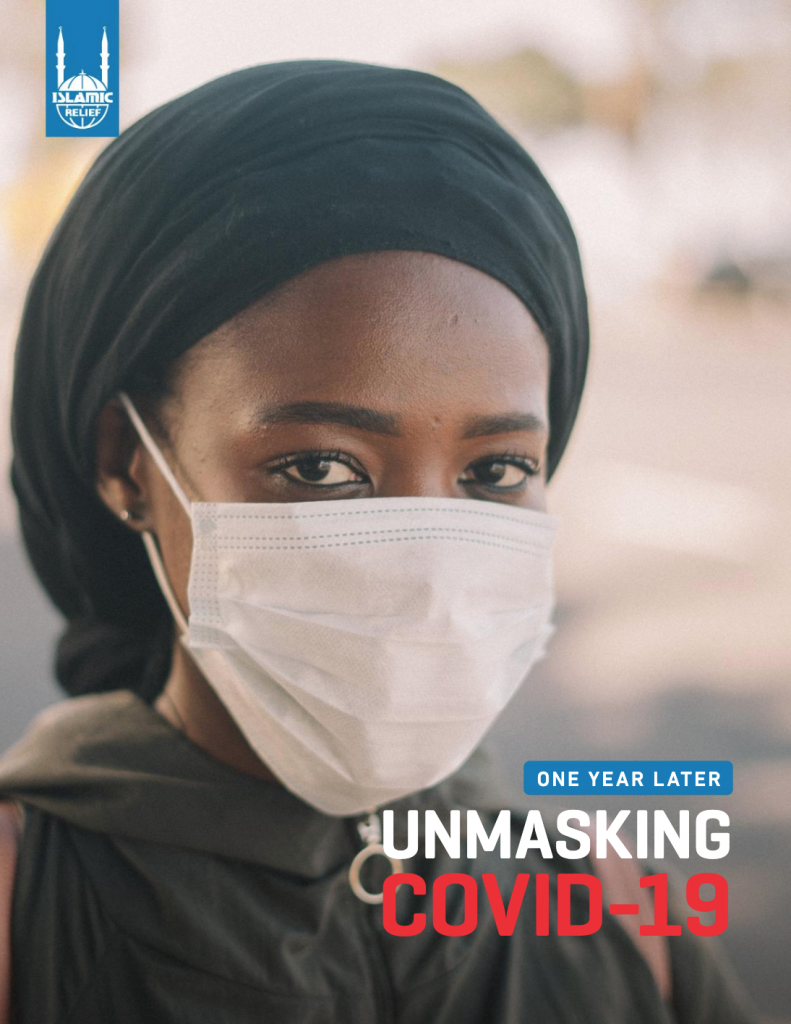 Islamic Relief Canada's Response to COVID-19 Abroad
While we continue our fight against COVID-19 at home, it is important to recognize that many of our brothers and sisters around the world are experiencing COVID-19 alongside ongoing poverty and conflict. The COVAX scheme was a global initiative developed to ensure equitable delivery of vaccines to some of the poorest countries around the globe; unfortunately, the vaccines available for COVAX would only allow for 12% of their populations to be vaccinated by the end of the year. Because of this, Islamic Relief Canada has joined forces with UNICEF to deliver COVID-19 vaccines to these countries. We are on the ground in Yemen and Palestine as well as India working with UNICEF to deliver COVID-19 vaccines to those who need it most.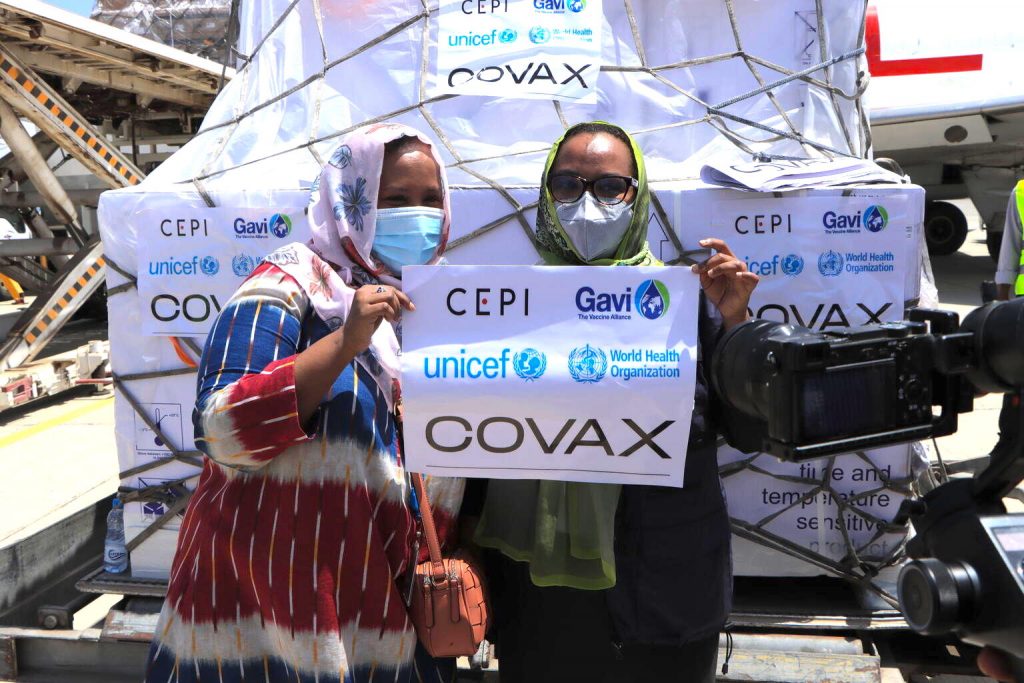 This isn't the first time vaccinations have been a global issue. Let's take a look at the history of vaccines and how Muslims have played a key part in making it widespread.
History of Vaccines
Smallpox was an incredibly deadly disease that killed nearly 30% of the people who had it. In 1796, an English physician named Dr. Edward Jenner inoculated (definition: becoming immune to a disease by placing part of the disease-causing agent onto open skin) a young boy with cowpox, which is a less severe form of smallpox. When later exposed to smallpox, the young boy did not develop the disease. Dr. Jenner's experiment is considered to have resulted in the first vaccine in human history. Despite the effectiveness of his discovery, many people in England at the time were hesitant to use his methods. In the end, it was reassurance from Arab scholars that finally helped vaccinations become common practice.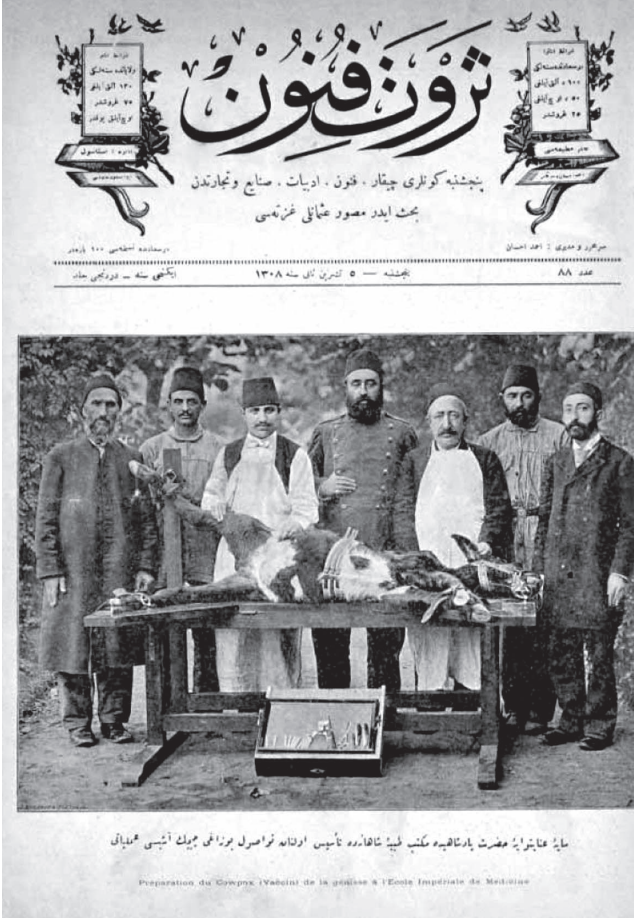 While many Western countries were frightened by inoculation, it was already extremely common in the Muslim world. In countries such as Palestine, the practice was used to protect against smallpox by scraping small amounts of the actual virus into a person's skin. When exposed to the virus at a later date, individuals suffered far fewer symptoms and were much less likely to die of the disease. Cassem Aga, the Ambassador of Tripoli to England, gave records of the effectiveness of inoculation to the Fellows of the Royal Society. These records came from several Muslim countries including Tripoli, Algiers, and Tunisia. Smallpox was eradicated in 1980, which means that there are no naturally occurring cases of the disease. While the vaccination technology has changed a great deal since then, it was these early innovations that laid the foundation for future discovery.
Together, with your support we're doing everything we can to battle the spread of COVID-19 for everyone, equally. It's our responsibility to make sure the vaccine is available for everyone, both at home and abroad.
This is Our Shot Campaign
When it's finally time to take your vaccine, we want to hear about it! On April 28th, grassroots organizations came together to launch a national vaccine campaign. On the website, you can find information about the vaccine in 28 different languages. You can participate by taking the vaccine when it's your time in your This Is Our Shot t-shirt (with all proceeds going to Kids Help Phone) and snapping a picture. If you don't have a shirt, simply get a sharpie and write This Is Our Shot on a piece of paper. Upload your pictures to your social media and tag #thisisourshotca. You can help raise awareness and spread the message of vaccination so that together, we can put an end to this pandemic.

As we continue to persevere through these challenging times, we at Islamic Relief Canada wish you and your families the best of health. We urge individuals to remain mindful of COVID-19 so that the next time we gather, there is no one missing.