It's past mid-January, and most of us aren't sure how we're already 3 weeks into the new year?! In what feels like a blink of an eye, a whole month has already almost passed us by. And even though that can feel depressing, it's a great opportunity to reflect and realize that we are more in control of our time than we think. This is exactly why we made our new year's kit called Hindsight 2020, but more on that later.
Take a second to ask yourself if you feel in control of your time or not. Let it be an opportunity to make a simple decision. A decision to take control of at least one thing you spend your time on.
This is the first step towards being more conscious about how you spend your time, and making time for the things you love and value. Without that decision, it's easy to feel like your life is passing you by.
That's exactly what our Hindsight 2020 kit is all about, to help you make the choices you value, and transform your year. So if you didn't already sign up to get your free kit yet, keep reading to get an inside look into what it contains.
Inside our new year's kit
What's a new year without a new calendar? We've got you covered. Our kit has a digital collection of beautiful calendar wallpapers for every single month, which you can download and put as your computer display image.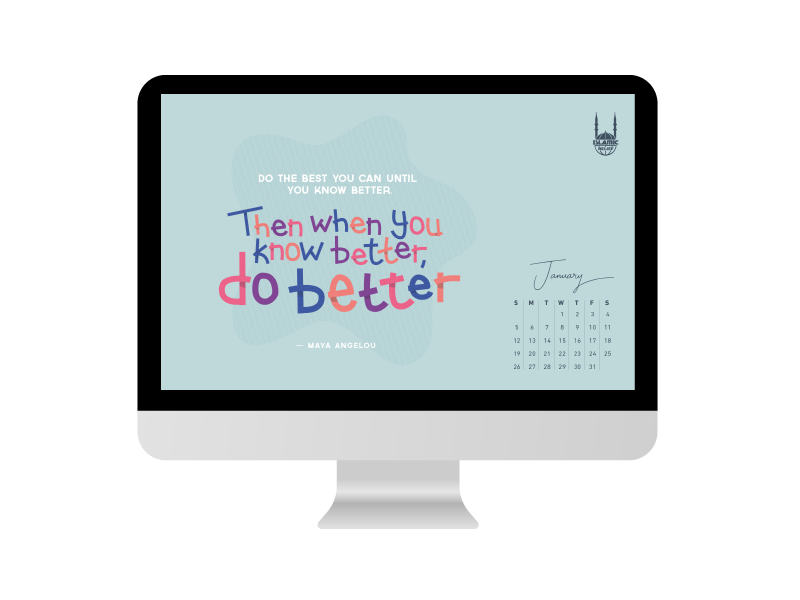 Each wallpaper design is a beautiful combination of quotes, graphics and cool typography. Whether you're at home or at work, these calendar wallpapers will inspire you every time you turn on your computer. This right here is January's wallpaper, and the rest of the months are waiting for you. 
In addition to this awesome download, the kit is intended to be a guide for how you can spend your year with Islamic Relief as you try to make a difference within yourself and your community. Filled with quick links, helpful printables, online tools, this kit will be a one-stop-shop for you to reference throughout the year. It will continue to show you how you can get involved, gain knowledge, explore the world, celebrate milestones, and help bring relief to humanity throughout.
Still here? Okay, one last sneak peek! Did you know we also designed a printable daily planner sheet?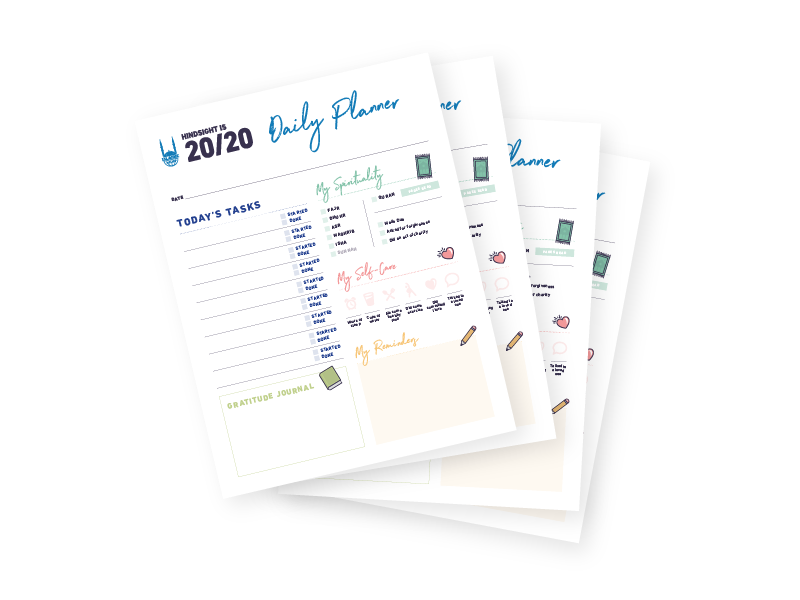 This 2020 daily planner sheet is such a handy tool for keeping track of your to-do lists and deadlines. But not just that. This sheet will even help you build towards new habits, better self care and spiritual growth. Sounds like some kind of magical sheet right? Go ahead, I'll wait while you get that sign up in.
Let us know what you think
I hope by now you're already browsing our kit and thinking of what else we can put in it to make it more useful. We got some cool ideas, and would love to know yours! Feel free to drop us a line and we'll be sure to include your idea in our next team meeting.
Sending you some gentle encouragement this Monday, and praying that the beginning of this year is a gateway to more positive growth for you and us all.